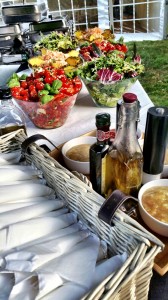 We have been delighting the people of Dundee with our delicious hog roasts for almost 3 decades and our desire to give people great food and unforgettable experiences drives us to be the best in the business. For the Hog Roast Dundee team, quality is of the upmost importance, both in the food we provide and the service we offer. We love the hog roast cooking method and we want to share our passion with as many people as possible. Once people have tasted one of our hog roasts, they keep coming back for more and we have an ever-growing list of regular clients who can't get enough of our high-quality meat.
How We Source Our Ingredients
 If you decide to hire us to cater for your event, you will be provided with restaurant-quality food in the setting of your choice. Every ingredient we use is chosen and prepared with care and is sourced from the best local producers. We never take short cuts at any stage and all of our food is freshly made by us at the venue. We know where all our ingredients have come from and only use pork that has been reared in ethical conditions. The same goes for our alternative meat options, such as sirloin of beef, organic chicken or spring lamb, all of which are also locally-sourced and slow-roasted to perfection.
More About Our Menus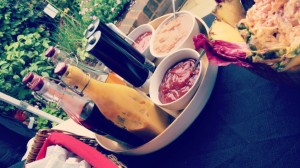 We have a vast array of salads and side dishes available, which complement our meats perfectly, as well as inventive vegetarian options for guests who don't eat meat. We have something for everyone, no matter what your tastes, budget or the nature of your event. We can provide large buffets for outdoors events and feed a lot of people for a very reasonable price. We can also offer you complete meals, with different courses and canapes, for more formal occasions and provide additional staff for table service if required. We have a menu for every occasion and we can adapt our style of service to suit your event. We always let you be in control and our event planners work closely with you to ensure you are completely satisfied with every single detail.